Helping NHS Sufferers Who Suffer From Autoimmune Conditions – A Three-Part Webinar
I had so much joy connecting with Ampersand Health and helping NHS patients who suffer from autoimmune conditions: arthritis, IBD, Crohn's, and Colitis.
It was a 3-part series, and I talked about the autoimmune conditions: IBD, arthritis, Crohn's and colitis coping strategies, how stress levels highly impact health, an anti-inflammatory diet and lifestyle, anti-inflammatory budget-friendly groceries, anti-inflammatory movement, and indeed, all about inflammation, including neuroinflammation.
This is a cause so close to my heart.
My mission is to make knowledge about health conditions available and accessible to all, every day, every year – so that they can go to the doctor less and have more autonomy over their health and bodies.
One of Eat Burn Sleep's missions is bridging the gap between allopathic medicine and holistic health. 
It was fantastic to receive such excellent feedback, and I included one here: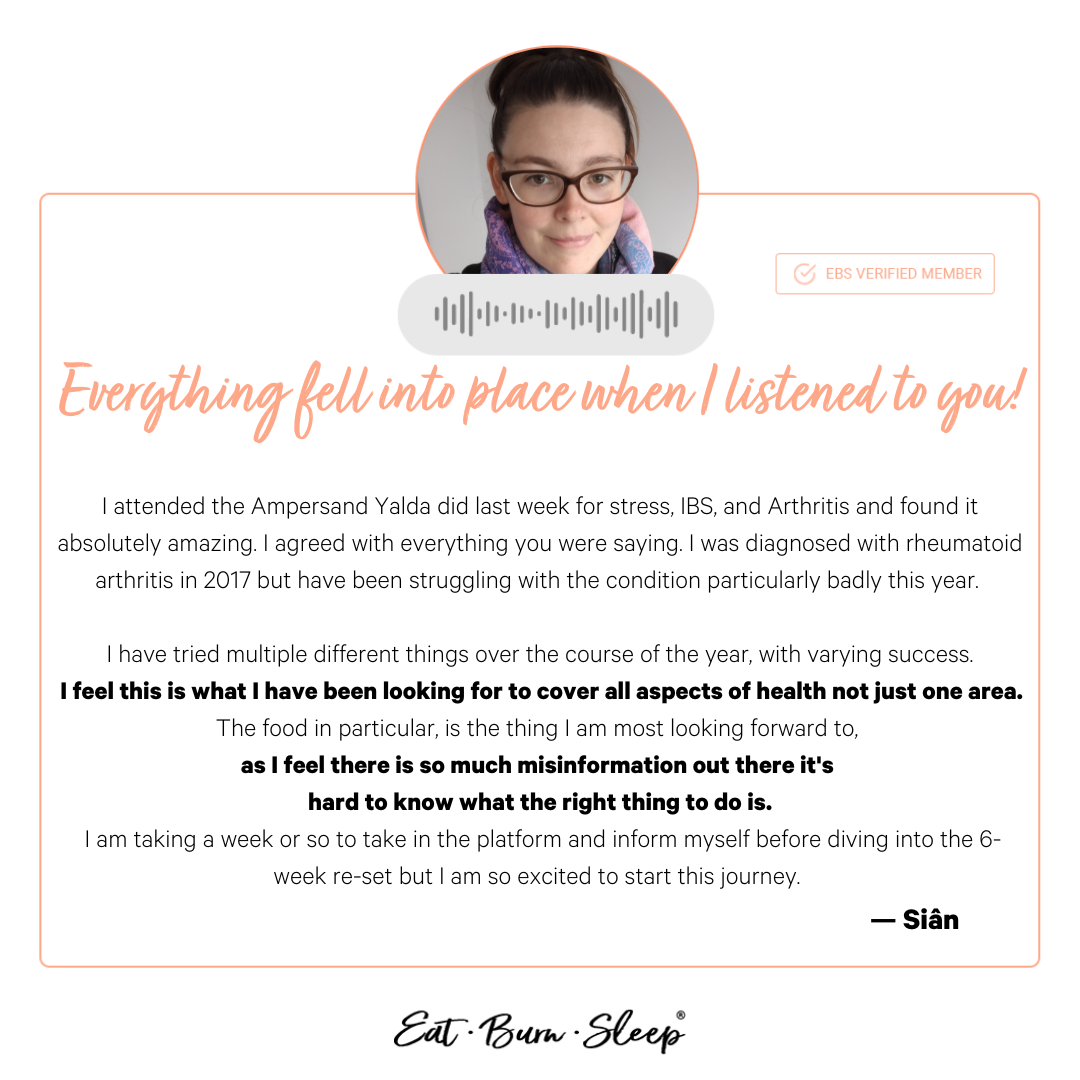 November 22nd Update from Siân:
'Thank you for another great webinar this evening. I feel so full of knowledge from your webinars and platform. How have I come so far in life without knowing these things? I have pasted my feedback below from the webinar this evening and added more detail.
This year, I have had hospital appointments, physio, acupuncture, counseling, and medication – none of these treatments have come near the results I have seen by following the EBS lifestyle. I can't believe the turnaround in my condition in such a short time.
I had written 2022 off as the worst year and couldn't wait to see the back of it. But the last few months have turned it into one of the best. I still have improvements to make, but I now have the tools to do it, so thank you.
My comment in the chat:
I just wanted to say I joined the platform following the first talk in September and have had amazing results. I was bed-bound for a few weeks at the beginning of the year due to the worsening of my RA and have been on and off work with numerous flare-ups.
I have followed the lifestyle for seven weeks and am pleased with the results. Now, I can move freely, have more energy, a better mood, and almost no joint pain, and I have halved my medication.
I didn't do the exercise videos on the platform for the first four weeks, as I was a bit worried about flare-ups, so I focused on walking instead. But for the last couple of weeks, I have been up to 2-3 weekly workouts and feeling great.
I have also lost 7kg; weight loss wasn't a goal for me, but I definitely feel the benefits. So, thank you, Yalda, for all your work on the platform.' 
I look forward to continuing to help patients in the UK and around the world. Health professionals, if you are involved with patients affected by inflammatory issues, please do not hesitate to contact me at yalda@eatburnsleep.com.