Meet Yalda Alaoui
Yalda Alaoui is a qualified Naturopathic Nutritionist (with a foundation in Biomedicine) who studied with the College of Naturopathic Medicine in London. She has spent over a decade performing groundbreaking research in inflammation and gut health.
A London-based entrepreneur and former capital market professional,  gut health and inflammation expert, Yalda is also mother to two boys.
She is half-Moroccan and half-Persian (Iranian), and she grew up in Morocco until age 12, then moved to France.
Yalda received a Master's degree from EDHEC Business School in France before moving to London to do a postgraduate in accounting and finance at the London School of Economics.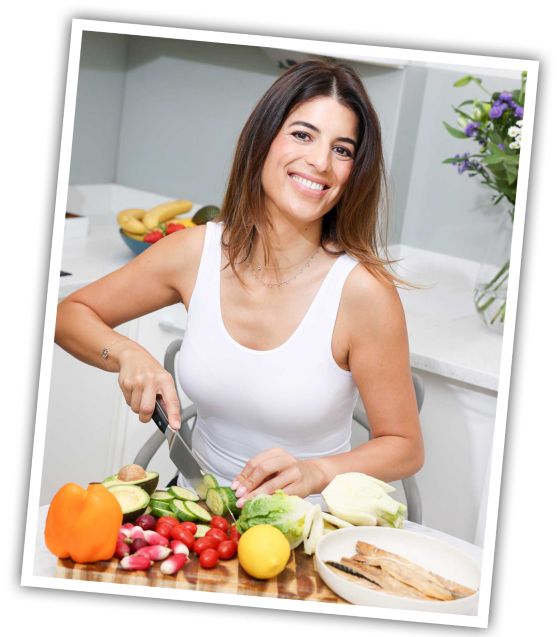 Yalda's Health Journey and the Creation of Eat Burn Sleep
Yalda was diagnosed with two autoimmune diseases – Ulcerative Colitis in 2007 and Autoimmune Hemolytic Anemia- in 2012, which catalyzed her research into health and nutrition. She traveled the world to find a solution from specialists, nutritionists, naturopaths, and holistic doctors.
During her research, Yalda understood that the critical factor in many non-communicable diseases is chronic inflammation and gut health.
This motivated her to develop a diet and lifestyle to combat this. After many years of trial and error, she has finally managed to keep herself in remission, living an everyday life again, healthier and happier than ever.
Through this absolute success and her passion for health, Yalda decided to share her knowledge and help more people. In 2018 Eat Burn Sleep was born! By now, thousands of people around the globe have embraced the Eat Burn Sleep anti-inflammatory lifestyle and have significantly improved their health.
Many medical professionals worldwide consider Yalda an authority in this area and often contact her to help solve new and increasing medical issues challenging the medical establishment.
Eat Burn Sleep keeps growing, evolving, and raising the bar in optimal health platforms as Yalda continues to expand her scientific research on gut health and inflammation.
Fully immersed in this health revolution, Yalda is developing a supplement to support this life-changing anti-inflammatory diet and lifestyle. Her mission is to inspire and educate others so that we all live our best lives, with more autonomy over our diet and lifestyle choices, for long-term physical and psychological benefits.
The Eat Burn Sleep Platform
Home to Your Low Inflammation Lifestyle!
Are you ready to improve gut health long-term from the inside out? Are you prepared to put your autoimmune disease into remission? Eat Burn Sleep brings you to gut health, anti-inflammation, and a sustained weight loss platform to help you thrive. Yalda Alaoui's revolutionary solution has been featured worldwide across media platforms and has been acclaimed by doctors and members alike.
Explore what the Eat Burn Sleep membership is all about and thrive physically, emotionally, and mentally today!