Gut Health and Anti-inflammatory Articles
The Benefits of Sun Exposure
15th April 2022
Is Sun Exposure Good or Bad For You? Hello Everyone! There is still so much debate about whether the sun is good for you or bad for you, so I decided to do a post on it. I have noticed that everyone recommends something different depending on the studies that they are most aligned with. […]
Read more
Weight Loss and The Link To Sleep
10th April 2022
How Can Sleep be Linked to Weight Loss? Hi Everyone! This article will explain the link between sleep deprivation, weight management, and a less-than-optimum physical and mental state of well-being. Sleep deprivation plagues a quarter of the world's population, and lack of sleep is linked to being overweight. In this post, I explain in detail […]
Read more
Corporate Motivational Speaker
4th April 2022
Corporate Health Talks, Workshops, and Masterclasses A unique approach to boosting productivity, morale, health, and vitality. Eat Burn Sleep Corporate Talks and Workshops are delivered by the founder of Eat Burn Sleep – Yalda Alaoui, who is a Naturopathic Nutritionist. Through her groundbreaking research into the fields of chronic inflammation and gut health, she has […]
Read more
How Can You Achieve Optimal Wellness?
30th March 2022
Raising Optimal Health Awareness on Men's Radio Station It was so much fun appearing on The Daily Show on Men's Radio Station – with Russ Kane and Chantal Rickards OBE. I was so grateful to join the radio program to raise awareness of how my anti-inflammatory method can help people live with optimum health. It […]
Read more
Member's Weight Loss Story – Express
22nd March 2022
A 'Greatest Gift' Story from an EBS Member An Eat Burn Sleep Member tells her success story in the Express about the benefits of joining our anti-inflammatory program. Help With Weight Loss and Inflammatory Conditions After significant traumatic events led Christen Kinard to deal with depression, anxiety, weight gain and dermatitis, she stumbled across the […]
Read more
A Recipe Creation for Poosh
17th March 2022
The Anti-cravings Shake Recipe Hello Everyone! I was delighted to be asked to create a recipe for Poosh recently. Why Did I Create a Recipe to Curb Cravings for Poosh? I went with a shake recipe to curb cravings because, based on my experience, so many people state that they have serious sweet cravings late […]
Read more
How to Not Waste Food
11th March 2022
My Interview With The Daily Mail: Be More Connected to your Food I was interviewed recently by the Daily Mail. It was about the recent call-to-action from the charity Wrap to supermarkets. They are urging supermarkets to ditch the sell-by dates on packaging. All in the effort to promote less waste, and I absolutely support […]
Read more
How to Live an Anti-inflammatory Lifestyle in America
18th February 2022
Miami Masterclass! Hello everyone! I can't tell you how excited I am about my first nutrition talk in the US! I will be holding a Masterclass – teaching you how to live an anti-inflammatory lifestyle in North America. Being healthy States side can be challenging due to all the additives approved by the FDA, which can […]
Read more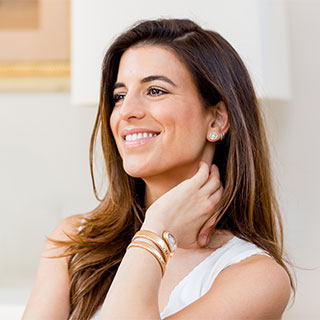 Better gut health starts here.
Ready for a proven lifestyle to reduce inflammation and improve gut health? Sign up for one of our membership options to begin your journey!