Be More Connected to your Food
I was interviewed recently by the Daily Mail about what I thought about the recent call-to-action from the charity Wrap to supermarkets, to ditch the sell-by dates on packaging.
All in the effort to promote less waste, of course and I absolutely support it.
How to Identify Spoiled Food
Growing up in Morocco, we didn't have supermarkets until I was 12, and dates on packaging didn't exist. We bought produce from markets regularly, or picked them up from my grandfather's farm, for the day that we needed them.
Food was fresh and we ate it soon after it was bought. Unless it was yogurt, which we kept longer for the healthy bacteria to occur. Waste didn't happen.
I know that many people have busy lives and shopping this way is not always possible but becoming more tuned in to our foods is good practice.
It's time to stop relying on sell-by dates and ditching foods that are perfectly fine to eat.
Trust your own judgement
This move will no doubt encourage more people to think about their food; looking at the colour and skin; feeling and smelling the produce, checking the consistency and appearance – and just generally being more connected.
Does the produce look, smell, feel good to eat? These thoughts will become second nature
Ultimately this practice will reduce waste, save money and more likely, more nutrients will be ingested.
Crunchy vegetables, for instance, get softer. So, initially you would use them for a salad or steamed lightly and then as they age, you could use them in soup or roast them.
Also, when buying a bunch of organic green bananas for next week's lunch box, buy extra for the next week too. When they are browning, smoothies are taken care of, for instance.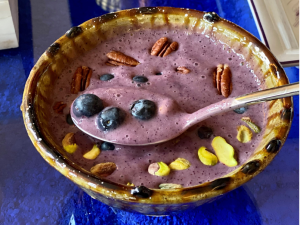 Meat should be cooked soon after purchase, as well as fish. Smells and appearance are a huge indication that they are past their best and getting a second opinion, if you are not sure, is wise.
Click here to read the article with some good food safety advice from a panel of food and nutrition experts.
Even if you already do this practice, it is often a good idea to plan meals ahead and shop the ingredients that you need for the week. Just a little time spent focusing on this can really save money and waste.
If you are a member of our Eat Burn Sleep community, then you will already have meal planning prepared for you, with recipes to reduce inflammation and fight disease  – as well as nutrition advice.
I know from feedback that these are appreciated because knowing exactly what to eat if there are health concerns for optimum results, takes the stress away. I love creating them.
Using up foods before they go over is so satisfying
So, what would I do with some vegetables like broccoli and zucchini that were on their last legs, so to speak? Well, I always have coconut milk in the pantry, so I would make my Cream of Broccoli and Zucchini Soup.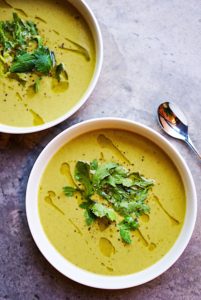 Prepared in moments, this cleansing soup with each ingredient chosen for its special healing properties, will boost gut and mental health, alleviate inflammatory symptoms, strengthen the immune system and boost DNA repair in cells. You could freeze it and add the coconut milk at a later date.
Members, I know that my version of Shakshuka is one of your favorites because it's a crowd-pleasing comfort food.
Kids love it, too. (I have always had to consider children when creating the recipes, since I have two!).
If there are hungry people around you, eggs that need using up and a batch of my delicious and versatile tomato sauce at the ready, consider this quick and easy dish.
The shopping lists will ensure that you have the other anti-inflammatory ingredients.
I am hoping that more people, through Wrap's campaign urging supermarkets to ditch the sell-by date, will see the positive results from being more connected to the food they consume.