Let It Glow! Let It Glow! Let It Glow!
It's party season, Everyone! For this post, I will share how to unlock your skin's optimum health for radiant, healthy skin throughout the holidays.
You may want the Eat Burn Sleep 'glow', or you could have a condition that presents itself through skin inflammation.
Like acne, eczema, or psoriasis, or a condition you wouldn't associate with skin disorders, like Crohn's, Colitis, PCOS, endometriosis, obesity, and diabetes, for instance.
You don't need to spend a fortune to have peak skin health (and put your chronic inflammatory disease into remission).
Incorporating changes now will ensure that your skin has a better chance of being party season-ready this holiday and glowing throughout the year.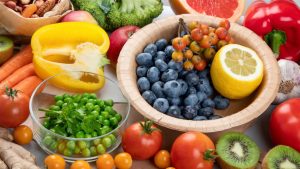 Eating for Glowing Skin
*(You guessed it) Follow an anti-inflammatory lifestyle. There is a direct relationship between the skin and lifestyle.
It is proven that what we eat and how we live protects the skin (and body) or contributes to damage and early aging. Eat anti-inflammatory foods containing all skin-loving nutrients, like polyphenols, essential fats, antioxidants, collagen, vitamins, minerals, fiber, etc., daily.
By eating anti-inflammatory food, you are banishing unhealthy gut bacteria and promoting a healthy gut microbiome, which is the route to reducing inflammation in the entire body, including the skin.
Chronic conditions can reveal themselves through the skin.
An optimum nutritional dietary protocol will feed the skin, protect and repair it, protect against chronic disease, and put the chronic illness into remission.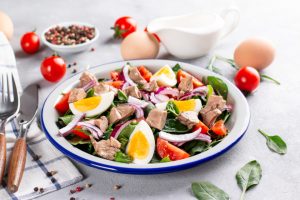 *Promote a healthy gut microbiome. Skin homeostasis is directly linked to your gut. Your microbiota will affect your skin health since it is associated with an altered immune response—an altered immune response through the microbiota results in skin diseases (as well as chronic conditions).
The overpopulation of certain bacteria in the gut can lead to skin inflammation—acne, psoriasis, eczema, and rosacea, for instance.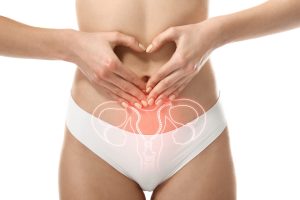 *Treat your chronic inflammatory and hormonal imbalance conditions. As mentioned above, conditions like Crohn's, colitis, obesity, diabetes, endometriosis, and PCOS, can often show skin inflammation.
Gut dysbiosis, which occurs with chronic inflammatory conditions, extends to the skin.
When treated at the source, the skin inflammation will go into remission as the condition diminishes. An anti-inflammatory lifestyle is a beautiful treatment for these conditions.
*Avoid deprivation diets and unhealthy eating. High-fat diets are associated with disease, the lipid composition of the skin, oxidative stress, and skin inflammation.
Nutrient-depleted diets do not give the body the nutrients it needs for optimal health, resulting in less-than-optimum gut health, chronic inflammation, hormone imbalances, skin breakouts, etc.
Many diets do not contain all of the required skin nutrition. Low-fat diets cause skin problems, too, because essential fats are needed for good health. Vitamin C deficiency, for instance, can cause impaired wound healing and skin fragility. Vitamin C is a powerful skin antioxidant needed to help absorb other essential nutrients.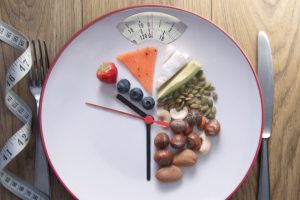 *Check the ingredients of what you are eating. For instance, additives, high salts, trans fats, and sugar promote inflammation in the skin, like acne, and accelerate aging by breaking down collagen and elastin.
*Puffiness, swelling, water retention, and wrinkles can occur depending on what you are eating.
*Cook and choose food carefully. Processing and the way foods are prepared can cause inflammation, excess sebum, and skin aging.
Check out these articles: How to Silence Hidden Inflammation and Do We All Need Omega-3?

Drinks and Skin
*Stay hydrated. Water is an essential nutrient. It is the main component of cells, tissues, and body fluid compartments, representing a large percentage of the body's composition (75% from birth and 60% in adults).
Staying hydrated will support your liver, which will show in your skin.
*Water deficiency is associated with several dermatological dysfunctions like inflammation, aging, and tissue dehydration.
*Don't drink too much alcohol. Alcohol dehydrates and can change the skin's permeability, affects skin lipid composition, destroys the skin's barrier function, and so much more.
Alcohol overtaxes the liver and can dry your skin, meaning wrinkles occur more quickly. The diuretic effect of alcohol depletes vitamins, too, like vitamin A, which is essential for your skin.
Over time, regular drinking can also cause a red face due to the permanent enlargement of blood vessels and thread veins on the skin.

Skincare Routine for Glowing Skin
*Have a good skincare routine. Of course, shower and bathe regularly to remove bacteria that clog pores. Take saunas, if you can. Cleanse, tone, moisturize and treat dry skin.  Here's a skincare routine I often do: wake-up makeup.
*Use products that do not have ingredients that you may be sensitive to. For instance, many emollients and fragrances can cause inflammation in some people.
*Protect against other external factors. Use sunscreen, even on a cloudy day. Check out Yalda Loves for the products that I use. Members can access my Skincare guide here.
*Massage your skin. Promote lymphatic drainage, reduce puffiness, and encourage circulation. If you can have facials, have them.
Facial massage releases contracted muscles and fascia, reducing stress and encouraging blood flow. Massage also stimulates oxytocin production (see below for information about oxytocin).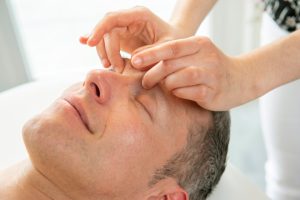 What Shouldn't You Do to Have Glowing Skin?
*Smoke. It is well-known that smoking causes skin damage and premature aging and increases the incidence of acne, skin cancers, psoriasis, and eczema. It changes skin cuticle thickness and accelerates skin necrosis (cell death) and pigmentation.
*Drink a lot of alcohol. See above.
*Eat a nutrient-poor diet—low calorie, high fat, carbonated sodas, processed foods, extreme diets, and so on. A healthy gut microbiome is imperative to skin health. See above.
*Get dehydrated. See above.
*Deprive yourself from sleep. Sleep is imperative for great skin. Studies have shown that sleep deprivation can affect collagen production through wrinkles, reduced elasticity, skin sagging, and diminished skin barrier function. Sleep is good for growth and renewal. 75% of the Human Growth Hormone (HGH) is produced during good sleep, accelerating skin repair and keeping you looking younger.
*Rely on 'skin' supplements alone. You can't have poor nutrition and expect good skin health by taking a skin health supplement, for instance.
You may be interested in the article: Why I Use Collagen.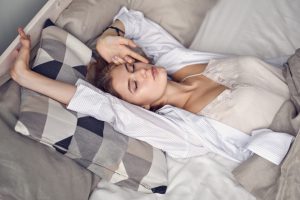 Exercise and Skin
*Take exercise that reduces inflammation, like what we have on the Eat Burn Sleep platform. Increasing blood flow, oxygen, and nutrients will be distributed to skin cells while also cleansing by removing cellular debris. Skin flare-ups can occur with intense exercise.
*Walk. It is a good exercise; again, it encourages blood flow, oxygen, and nutrients to the skin and is a super de-stressor, reducing cortisol. 10 Reasons to Walk.
*Stretch your fascia. If you have restricted fascia for a long time, you may be 'holding' onto the pain in your face, resulting in wrinkles.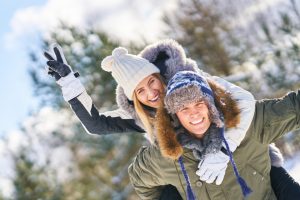 More Tips for Glowing Skin
*Detox your liver. An overloaded liver will present itself in the skin. Members can access the Detox Guide here.
*Balance hormones. Hormones play considerable roles in our skin appearance and feel. Estrogen stimulates collagen, elastin, and hyaluronic acid production that helps skin stay plump, and elevated androgens can contribute to oiliness and acne, for example. Take up an anti-inflammatory lifestyle to assist with balancing hormones.
*Keep stress levels down. Stress always shows on the skin. Cortisol, released during stress, causes inflammation and increased oil production in your skin glands, leading to skin breakouts like acne and eczema. It increases DNA damage, disrupts skin cell cycles, and promotes early aging.
*Get plenty of fresh air, if you can. Air pollution contributes to oxidative damage, inflammation, skin cancer, etc.
*Socialize, snuggle with a pet, and laugh lots. When you socialize or snuggle with a loved one, oxytocin is released, that 'feel good' hormone. Think of the glow that people get when they are in love!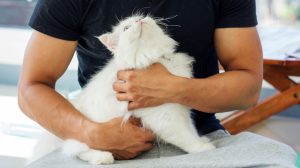 Oxytocin promotes skin healing and gives you a radiant complexion. It doesn't stop there because oxytocin protects against intrinsic skin aging, which is skin aging due to internal natural factors within the body, due to hormones, endocrine metabolism, and genetics, for instance.
If you are an EBS member, the bonus is that oxytocin production occurs with a balanced gut through an anti-inflammatory lifestyle.
Of course, when your health is good, it shows on your face.
Follow an anti-inflammatory lifestyle with all the advice, guidance, tips, hacks, and recipes, and you will soon have everything you need for beautiful-looking skin that reflects how you feel inside.
It's a beautiful cycle. Replenish, rejuvenate, and reward.
Join (or gift) the skin-loving Eat Burn Sleep lifestyle and let it glow!
Of course, I wish you a fun-filled party time and hope you have a super day today!